Adult Christian Education
God's Vision, Our Mission: To Build and Strengthen Relationships with Jesus Christ and Each Other
Relationships don't just happen, we need to cultivate friendships. A small group Bible study can be the place where it is safe to share out thoughts about God's Word. A place to get prayer support, and encouragement in times of trouble. A place to share the joys and blessings that Jesus Christ provides for us.
Monday Evening Ladies' Bible Class
Meeting Time: 6:30 to 8:00 PM
This class is currently studying the book "Bless These Lips" by Sharla Fritz.
"Words are powerful. They can build up or tear down. They can affirm and teach or criticize and condemn. By God's grace, a mouth makeover can improve our relationships and affect our attitude toward life. Our words can enrich our connection to God as we spend more time in prayer and praise. Most important, God desires that we use the gift of speech to give Him praise, encourage others, and verbalize our faith in Christ as Lord and Savior."
You can read more about the book at: https://www.cph.org/p-20652-bless-these-lips.aspx
Please plan to join us!
Wednesday Morning Ladies' Bible Class
Meeting Time: 9:30 to 11:15 AM on the 1st, 3rd & 5th Wednesdays, September through May
We are studying Christina Hergenrader's book "Love Rules: A Study of the Ten Commandments".
"The miracle of the Commandments is that even after many, many years, they still hold everything we need to live in relationship with God and with one another. This book tells the story of spiritual transformation, shows how God wants us to love better, and helps us see how we can."
You can read more about the book at: https://www.cph.org/p-29662-love-rules-a-study-of-the-ten-commandments.aspx
Thursday Men in the Morning
Meeting Time: 6:00 to 7:00 AM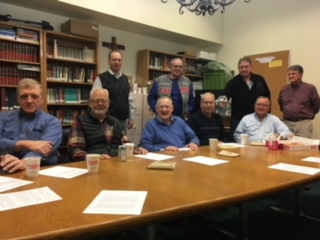 Men from Zion and from other chuches in the community gather at Zion every Thursday morning. Through the fellowship that is enjoyed, participants respond by actively supporting those in need. We begin each session with prayer requests for individuals or groups in need, and unite around community needs through donations of time, talents and monetary resources. On April 4, we begin a new Bible study entitled "Wired for God". The study focuses on how all human beings share the same longings irrespective of race, religion, socio-economic status, what age they were born into, etc. We all long for perfect justice, perfect beauty, perfect love, perfect truth, and a perfect home. We are created in God's image, and He has placed those longings in our hearts.